Legal Copyright Notice: This " AACRO® Model of Digital Marketing" is an exclusive copyrighted & IP protected item by Seven Boats under IP & Trademark law, India. By visiting this site, you are abide by this ToS.

Seven Boats Info-System Pvt. Ltd. has invented a unique process/model (AACRO® model of Digital Marketing) with clearly defined steps of doing digital marketing. We have put this model to practice to show measurable result for our clients. This process helps in improving digital marketing operation in a structured way and is easily scalable. This model can be followed/replicated by other companies/institutes/agencies/individuals also for carrying out effective digital marketing campaigns along with a unique reporting model.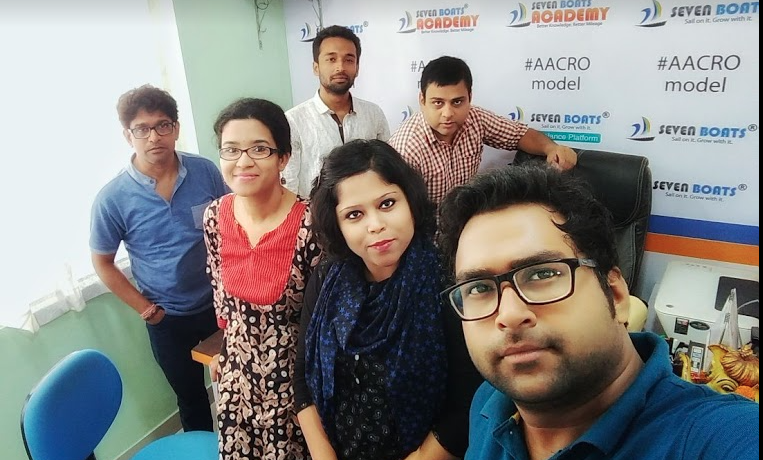 The Benefits
Earlier to bring result for a business with digital marketing we had to experiment a lot & evolve new strategies, often unstructured/ad-hoc in nature. This new AACRO® model of #digitalmarketing is more robust, with faster implementation techniques & proven KPI driven strategies for showing result. This can fit in for any industry requirement. Click To Tweet
Any company/organization/agency/individual can use this model for reducing resource cost overhead yet produce better measurable result with defined KPIs & better ROI. If you want to get trained by us, join our digital marketing training course in Kolkata

The model
AACRO® model of #digitalmarketing has clearly defined levels and steps of grabbing the attention, getting the traffic, converting to business, retaining traffic & improving experience, with measurable KPIs & reporting at each level. Click To Tweet
This combined with a unique & detailed work report format can be used by any agency/institute/corporate or individual to carry on their digital marketing activities in a robust and more effective way with precision and quality and thus giving clearer picture on activities, progress and ROI and scale up further. This model helps to minimise man hour, resources, reduce/minimise errors to a great extent by defining result oriented steps of digital marketing process in a well researched & experimented 5 level model with further guided steps and tasks involving strategy, planning, execution, monitoring and improvement.
This model can be adopted by other industries on a regular or monthly basis for effective brand building in digital platform. This model uses well defined steps at each level supporting with tools and formulas. This model is different from others because presently there is no defined process/model of doing digital marketing activities effectively and organisations do it in ad-hoc or unstructured way. This model will give a standardisation method to overcome the challenge and is applicable equally effectively for any industry of any size. This will also help organisations in cost cutting since this method is based on practical evidences, experience, aggregated tools and automation in various levels and steps involved in this model.
AACRO® Model of Digital Marketing
AACRO® Model of Social Media Marketing
AACRO®Model of Website Development
Sub tasks/Activities
Reporting Screenshots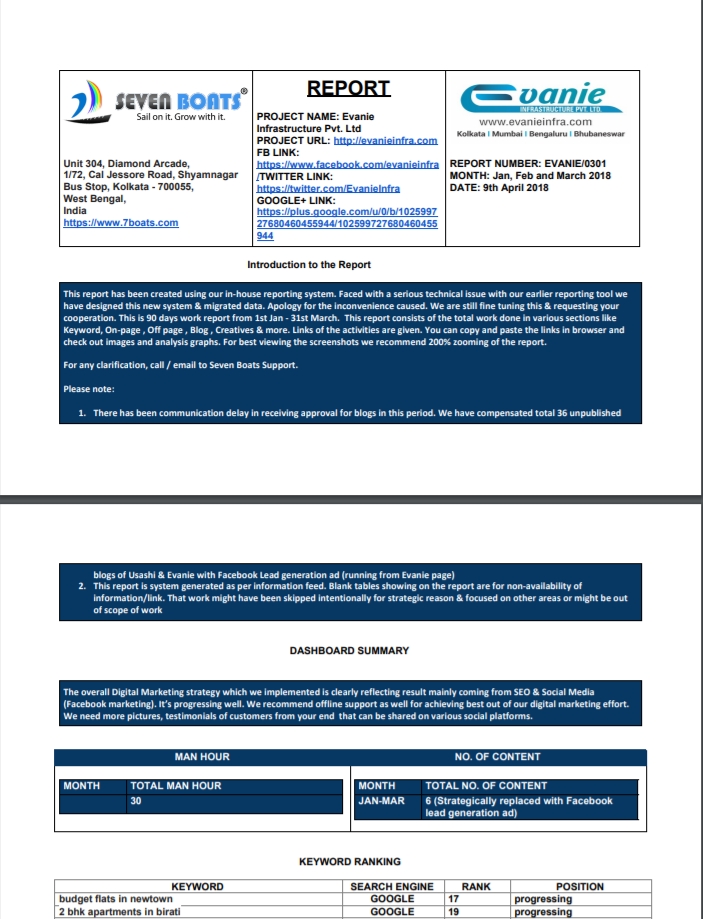 Sample SEO Audit Report
Leads & Key Takeaways
Worried about business leads? We understand you discovered or directly got in touch with Seven Boats looking for digital marketing company who can ensure LEADS for your business. No more worries! Here we present "AACRO® Model of Digital Marketing", a proven & unique digital marketing chemistry to give you leads & better Return on Investment (ROI) via integrated digital marketing communication through various channels and activities.
From research and experience we have seen average cost per click (for website visit) & cost per thousand digital impression (for 1000 views) across all industry verticals in India comes around INR 40 & INR 55 respectively.

Globally average cost per click is USD 2.69 & average cost per thousand impression is USD 0.63. Average conversion rate is between 2-7%. Average CTR (Click Through Rate) ranges between 0.46%-2%. Click To Tweet

Above 2% it's called above average CTR.*

So for example, being a business owner in India if you spend INR 18,000 on Digital Marketing per month, you can roughly expect 450 clicks, 70-200 Unqualified/Pre-Qualified leads and 20-40 conversions (TARGETED "QUALIFIED LEADS") or even more. If your business is based anywhere outside India, spending USD 1075 a month can roughly fetch you 450 clicks, 70-200 Unqualified/Pre-Qualified leads and conversions in tune of 20-40 or more. Leads include call, visit, social lead/query, contact form submission, online payment via integrated digital media activities and direct emails too.**

Isn't it an impressive number of targeted "qualified leads" for your sales team to chase for conversion, ROI & growth? We keep the KPI simple for you. LEADS – How many do you need?

Further stirring up strategy the same budget can also give you 1,50,000 – 6,00,000 ad/search impressions/reach or more, if you wish to go for brand visibility.**
That's not all. We not only give you business leads, we blend our exclusive & copyrighted AACRO® model of Digital Marketing for branding actions as well, which is a solid KPI driven 5-stage digital marketing process, to give the following value addition as key takeaways for your business –
Uplifting brand value

Establishing goodwill factor

Increasing popularity index

Improving brand visibility

Engaging people

Drawing visitor

Responding to visitor's queries to increase brand loyalty

Suggesting unique strategies to make visitor come back

Enhancing user experience with measurable data & statistics
In a nutshell, you not only get leads from Seven Boats, here you get associated with a digital marketing partner, having proven track record of serving more that 700 clients across the globe in 30+ industry verticals and 22000 students in digital marketing training since last 8 years, for a long term brand building via integrated digital marketing communication and activities as per AACRO® model.
Don't you envision your business to flourish?
Disclaimer:
Up to 25% deviation can happen in number of leads for various factors like demand of your product, your industry, nature of business, target, competition, geographic location, product, price, online & offline reputation, marketing budget etc

ROI may fluctuate between 5-75% based on above factors. Above average ROI varies from 80% to 200% or even more.

Most importantly, if your product price is lower than the conversion cost as per above calculation our team of experts will guide you with strategic result-oriented suggestion as per our AACRO® model

We do not sell only leads as standalone package or just work in pay per lead model like any lead aggregator or lead selling site. Here we focus on long term branding solution via integrated digital marketing communication through various channels and activities as per our AACRO® model

Brand building is not a one month activity. We recommend businesses to go with our retainership model for minimum 6 months to get the most effective result.
Few sample Ad report snaps & stats:
Find below a few real time ad snapshots from Facebook & Google to give you a rough estimate on cost per click, reach, impressions, CTR (click through rate). Facebook ads consist of link click, post engagement, video views, event promotion, lead generation and Google ads consist of search ads, video ads, display ads, shopping ads and mobile ads.
Facebook Ad report samples (INR)
Facebook Ad report samples(USD)
Google ad report samples
Case Study:
Full stack Digital Marketing for Usashi & Evanie Eco Nest (Real Estate Project)
Sample Social media ideas in tune to "AACRO®" model:
See a sample idea-deck for RP-Sanjiv Goenka Group that was highly appreciated by them.
We appreciate the time and effort you invested on this pitch. We were impressed to note that it was an extremely well thought-out plan. – Toai Chowdhury, Group – Corporate Communications, RP-Sanjiv Goenka Group

Legal Copyright Notice: This " AACRO® Model of Digital Marketing" is an exclusive copyrighted & IP protected item by Seven Boats under IP & Trademark Law, India. By visiting this site, you are abide by this ToS.
Data Source (Last updated on April 9, 2018): * Source 1, *Source 2, **Seven Boats
Want to learn digital marketing?
Looking to jumpstart your career? Look no further than Seven Boats Academy – India's best digital marketing institute! Our Digital Marketing Courses will equip you with the skills you need to succeed in today's competitive job market. You'll learn essential techniques that will help you grow your business or land a new job.
Our easy-to-follow course materials make it easy for you to upskill yourself and achieve your goals. Also if you are looking for digital marketing course in Kolkata, Seven Boats is the best choice. Enroll today and start your journey to success!